A little over a month ago I sent out a newsletter (which you can find here), but I want to ask for your prayers. Would you consider praying for us daily for the next 30 days? There's a lot going on, and I desperately desire to be in the center of God's will for the ministry that He's given us.
Like, seriously, could you mark on your calendar to pray everyday until Sunday, March 12th???
Here's a quick update and topics that we need prayer for:
Our Kids

The new school year started in January, and we're really happy that Celia's younger sister, Ana, came to live with us. She finished sixth grade last year, which is all that is offered in their town. It's so great to have her with us now!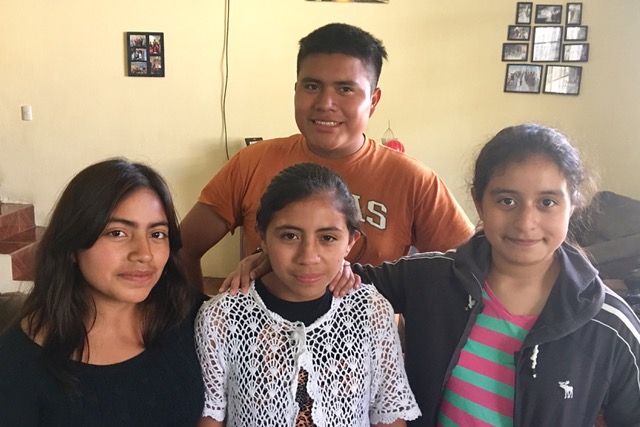 Please pray for her adjustment to living with us. Please pray for Celia and Alfonso as they're in new high schools, and for Karla who is in sixth grade. One wonderful thing to see is how Karla's worked so hard to befriend Ana and help her to feel comfortable. They quickly became friends!
Our oldest boy, Carlos, received a new job this month as a guard at the school where Celia attends, so he now has to stay there. It hasn't been easy for him to be away, but it's great to have a more stable employment.
Please pray for us as we try to care for all of them, and pray as we teach them about God's great love for us and encourage them to grow in their relationship with Him. It's so hard for kids from orphanages and broken homes to feel the security that God loves them and cares for them. I really want to see our kids experience the peace that comes from Him.
"And I pray that you, being rooted and established in love, may have power, together with all the Lord's holy people, to grasp how wide and long and high and deep is the love of Christ, and to know this love that surpasses knowledge—that you may be filled to the measure of all the fullness of God."  Ephesians 3:17b–19 (NIV)
Shoeshiner Ministry
We started weekly meetings on Monday nights in January with the shoeshiners, and it's been great to have more consistent time with them. We have roughly 20 who are dedicated to come, and I'm privileged to be able to share the Word with them each time. We also feed 100 people every Sunday morning in the park, so we're cooking a lot for those activities.
A group of teens and young adults help us a lot with the activities, but have been having a lot of problems this year. Some are just tired or preoccupied with their own life's busyness. Others are fighting and some have fallen away because of sin.
I'm trying to have a more active role in discipling some of them and ministering to them as a group more regularly. I understand that they're young in both age and faith, and I hope to help them mature in their faith. Working with them has really consumed a lot of time and emotional energy this past month, so I'd really appreciate your prayers for me.
"Therefore, since we are surrounded by such a great cloud of witnesses, let us throw off everything that hinders and the sin that so easily entangles. And let us run with perseverance the race marked out for us, fixing our eyes on Jesus, the pioneer and perfecter of faith. For the joy set before him he endured the cross, scorning its shame, and sat down at the right hand of the throne of God."  Hebrews 12:1–2 (NIV)
Our Family
A common topic of conversation in the States with people my age is how to have a good balance between work & home. And I struggle knowing how to balance the two since my work is largely in my home. Our kids would love to have my attention every second that they're here, and they get jealous with each other if one feels like I'm helping another more with homework.
I'm so incredibly blessed to have a very dedicated wife who has the same heart as me. She's been working with the the kids nonstop today on all their homework and school projects. And Margaret is so sweet and happy. She just loves everyone. But I really ask your prayers that I can always be mindful to spend enough time with my family and not overcommit to helping others at the cost of not helping my own wife and daughter.
"And this is my prayer: that your love may abound more and more in knowledge and depth of insight, so that you may be able to discern what is best and may be pure and blameless for the day of Christ,"  Philippians 1:9–10 (NIV)
Other Prayer Requests
A van. We've been looking for a long time, but we haven't found one that will work well for us.
I'd like to start construction on the girl's house this year. It would be great to have them here on premises instead of renting a house down the street.
Thanks so much for your prayers; I hope to send an update in 30 days about everything that's happened!
Brent